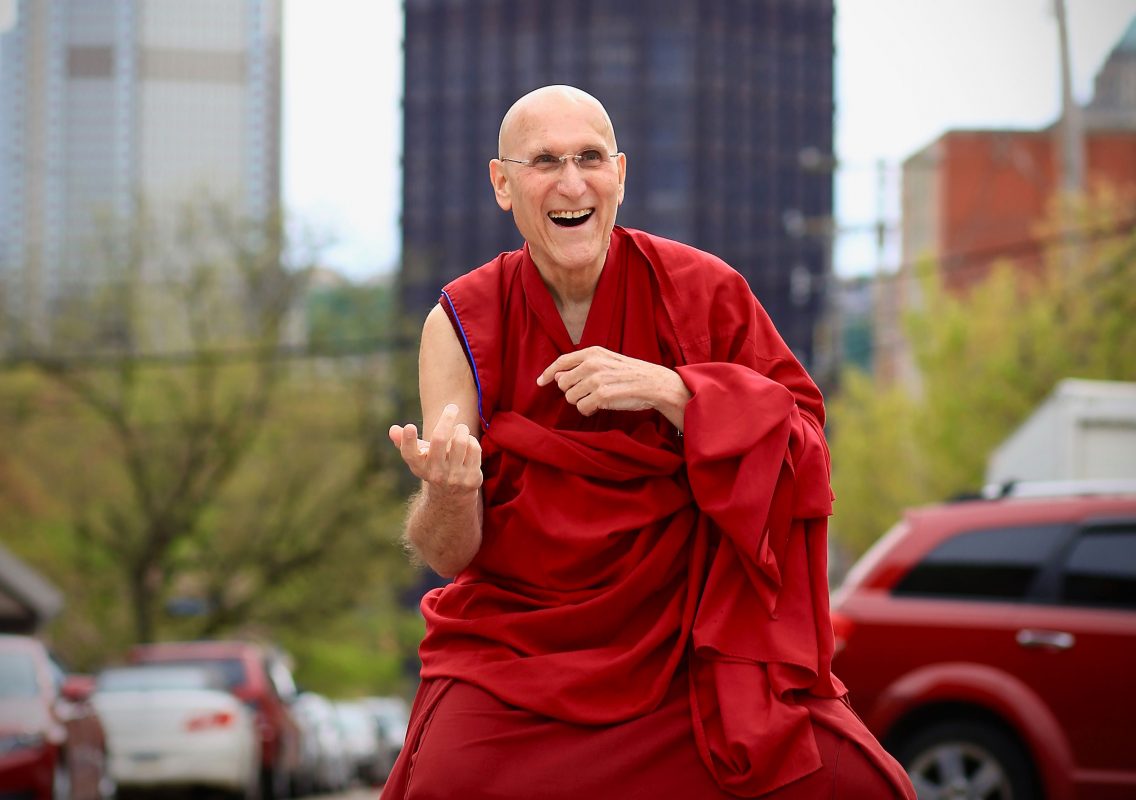 Crowds cheered. Onlookers gawked. Groups parted ways. It was as if, without warning, a deeply charismatic celebrity had descended. Someone with style.
Someone with karma.
Last Saturday, late afternoon, an unusual sight emerged: A bald, white man, about 6 feet tall, clad in a dark red robe and wearing threadbare running shoes, strode slowly up Cassatt Street, in Pittsburgh's Hill District, up to one of the neighborhood's main drags, Bedford Avenue. Throngs of people had gathered there for a block party in celebration of August Wilson, the Pulitzer Prize-winning playwright and Pittsburgher who would've turned 74 on April 27. But as the bald man arrived, several people there immediately recognized him. And with good reason: This wasn't just any bald man. This was Dr. Barry Kerzin, the 71-year-old personal physician to the Dalai Lama. Yes, that Dalai Lama — the most important monk in the newest school of Tibetan Buddhism.
Kerzin has become something of a celebrity in Pittsburgh. Over the last three years, he went from a one-time keynote speaker at a medical convention here to someone contracted by UPMC to instruct nurses and doctors at Pennsylvania's largest healthcare system on the virtues of compassion and self-empowerment. This year, he helped to convene a meeting in India between the Dalai Lama, Pittsburgh Mayor Bill Peduto, and other high-profile Pittsburgh leaders. That meeting blossomed into a tentative plan between Kerzin and Peduto to train not just doctors and nurses but cops and government employees on the values of meditation and compassion. It was as if Pittsburgh had found a new spiritual guide — in the form of a robed monk.  
In the Hill District, that certainly seemed to be the case. Block party attendees posed for photos, stopped to stare. Kelli Shakur, 32, even brought Kerzin in on a character sketch that Shawnelle Dodds, 43, was in the middle of drawing.
"We're so glad to have you here," Shakur said, hugging Kerzin, who responded in kind and wished her well.
As he walked away from her slowly — down Bedford Avenue, toward the UPMC tower standing tall in the distance — he turned to me.
"It's good when people stop to listen," he said. "Because, you know, I do have a message to share."
~
"It's good when people stop to listen. Because, you know, I do have a message to share."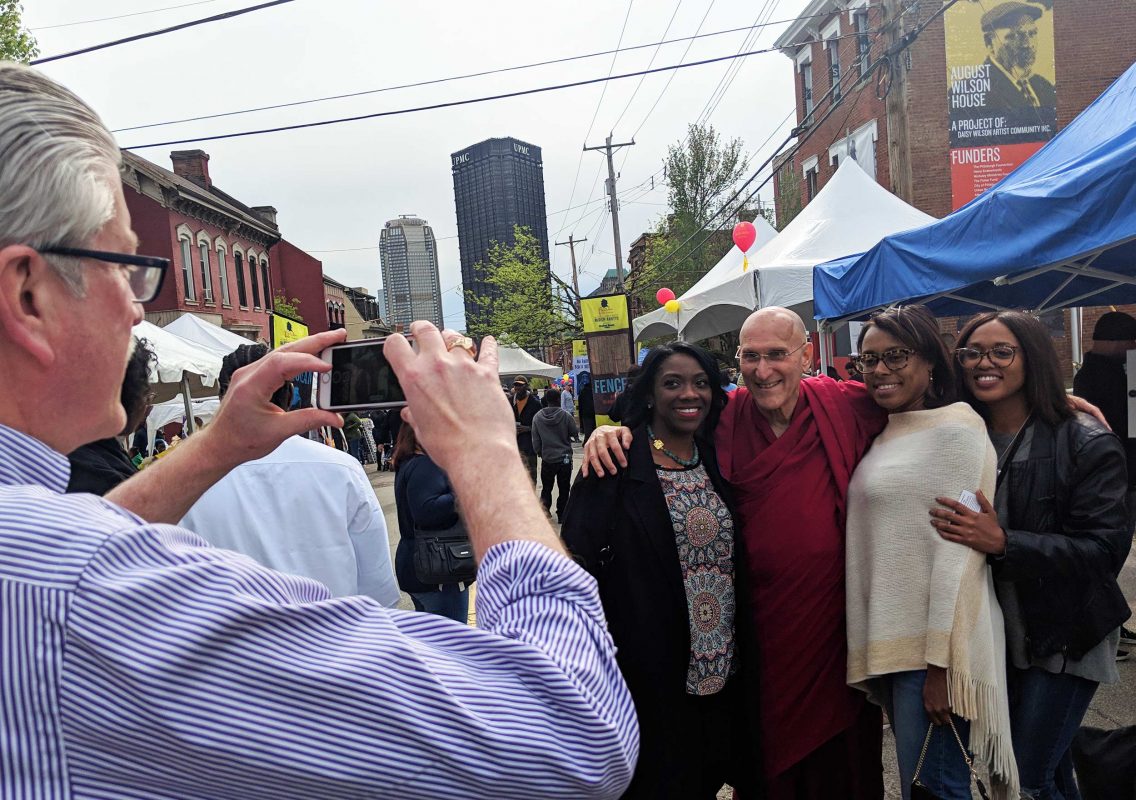 Kerzin was like many other successful doctors in the early 1980s: Born and raised in Hollywood, California, he earned an undergraduate degree in philosophy from the University of California at Berkeley and then received a degree in medicine from the University of Southern California in 1976. He got married and practiced family medicine in Ojai, California — a town of a little less than 8,000 residents, known as a tourism spot in Ventura County — for seven years.
But when his wife, Judy Kerzin, died from complications related to ovarian cancer in 1983, he found himself searching for answers to bigger questions. He needed a change and took a role teaching family medicine at the University of Washington in Seattle.  
There, too, he felt unsettled, like something was missing in his life. That's when he accepted an invitation to teach Western medical practices to Tibetan doctors at the Dalai Lama's compound in Dharamsala, India. "I went over thinking I would be there for six months and now it's been 25 years," he told the Ventura County Star in 2014.
What Kerzin discovered during that initial trip was Tibetan Buddhism, a religion built around selflessness and compassion. Buddhism had the answers he craved. He spent nearly 20 years studying and meditating under the Dalai Lama before being ordained a Buddhist monk.
Then, in 2003, came orders from on high.
"The Dalai Lama himself came to me and said, 'I want you to bring my teachings to the world,'" Kerzin told me.
And so he did.
~
"The Dalai Lama himself came to me and said, 'I want you to bring my teachings to the world.'"
In 2006, Kerzin established the Altruism in Medicine Institute, a Colorado-based nonprofit organization designed to do the opposite of what he'd been asked to do years earlier: He'd once been asked to bring Western medicine to India; now, the Dalai Lama wanted him to bring Buddhist principles to Western medicine.
That's how Kerzin became an ambassador to Pittsburgh.
In the lobby of the Omni William Penn Hotel last Saturday — a half-hour before Kerzin strolled up Cassatt Street in the Hill District — he and Scott Lammie, UPMC Health Plan's senior vice president of business development, sat on a plush, tan-and-red striped couch to explain how the Dalai Lama's doctor came to be a figurehead half a world away from Tibetan Buddhism's center of operations.
"It was a bit of divine intervention," Kerzin said.
"Karma?" I asked.
"You might call it that," he said, laughing.
Back in 2007, Bill Strickland — a Macarthur Genius Grant winner who is the founder of Pittsburgh's nonprofit Manchester Bidwell Corporation — gave a presentation in Vienna, Austria, to a small group of international luminaries, including the Dalai Lama, about Strickland's lifelong work educating and mentoring inner-city kids. Nine years later, Kerzin gave a lecture to family doctors who'd gathered in Pittsburgh for a Family Medicine Education Consortium convention. UPMC, under Lammie's direction, sponsored that event. A friend of Strickland's, Lammie remembered that Strickland had a connection to the Dalai Lama. Lammie suggested that a group of 15 or so attendees of the Family Medicine Education event get together at the Manchester Craftsmen's Guild to hear more about what Kerzin had to say.
Kerzin's message wasn't complicated. He taught three main principles. "Number one would be taking care of ourselves," he told me. "How to do that — techniques, or methods, or approaches to do that. Second would be healthy self-confidence — to feel more confident about ourselves without putting other people down and becoming arrogant. Third," he continued, "would be working on these so-called destructive emotions. To not suppress, but to change them — anger, jealousy, pride" — and to discover ways to "drop into the present moment [via] mindfulness or meditation."  
Kerzin's pitch on those simple principles was enough to build a relationship with UPMC, which agreed to pay honorariums to his nonprofit for presentations he would give to doctors and nurses. UPMC also paid for his travel from India, where he's lived in the Dalai Lama's compound for the last 30 years, to Pittsburgh. (A 2017 tax return for Kerzin's nonprofit, the Altruism in Medicine Institute, indicated it received a little over $80,000 total — not just from UPMC — in gifts and contributions for the year; Kerzin received no compensation from the nonprofit.) While in Pittsburgh, Kerzin would teach his principles to UPMC nurses and doctors with the guiding premise that "self-compassion, compassion for others, mindfulness, and resilience" are "as essential as anatomy, physiology, and pharmacology."
In 2019, a plan emerged in Pittsburgh to have that premise expand to include more than just UPMC employees.
~
"The goal is to get Barry to engage with everybody."
In March, Lammie, Peduto, and Strickland traveled to India to meet with Kerzin and the Dalai Lama himself. From that trip, ideas grew about how Kerzin's teachings might extend beyond medicine and into government.
According to Kerzin, he met during the week of April 21 with both Peduto and Pittsburgh Police Chief Scott Schubert about how his teachings might be useful to government officials, cops, even teachers. (Tim McNulty, the mayor's spokesman, acknowledged that Kerzin and the mayor met, but said any plans to train city employees are still in the preliminary stages. "No programs are being introduced," McNulty said. "These are informal talks." The city's police spokesman did not respond to emails and a phone call requesting information about the chief's meeting with Kerzin.)
"The goal is to get Barry to engage with everybody," Lammie said, "not only all 87,000 UPMC employees, but also people who are part of the communities we serve."
Kerzin elaborated. "By working with doctors and nurses and teachers, the idea is that improved awareness of themselves — and actually making changes in their negativity — that then translates into their constituency," he said. "So, for doctors and nurses, it's for patients. For teachers, it's their students. For the police force, it's the community that they're there to protect and serve."
It's a tough premise to argue against — the idea that instilling compassion into groups of workers who engage with the public is a good thing for everyone. Why wouldn't it lead, as Kerzin suggested, to a more resilient workforce and better relations between health systems, government workers, and the people they serve?
Such an approach would have limits, though.
In the Omni, with Lammie at his side, Kerzin made a polite but provocative statement about the strained relationship between Allegheny Health Network and UPMC — a relationship fraught for nearly a decade by disputes between the health giants over reimbursements, market share, individual patients' access to health networks in the region, and other factors.
"Those two hospital systems are really at each other's throats," Kerzin said, "trying to get business from each other — and they're not friendly."
"We try to get people to recognize, to be more self-aware," Kerzin went on. "And by that process, people begin to naturally soften and improve communication, because they have a little more integrity, a little more honesty, and therefore more trust. And when you start to develop more trust, you build better communication."
This was Kerzin offering a concession: There's no guarantee that a charismatic spiritual guide could immediately inspire doctors, or cops, or teachers — or healthcare providers — to be more compassionate in their work.
"This isn't going to change everything overnight," he continued. "It's at least a lifelong process. It may be the next generation. So that means we're putting this stuff into schools — kindergarten, all the way up — so that the future leaders of Highmark and UPMC and the other players will have a qualitatively different education."
"Part of it's a hope — it may never happen," Kerzin said. "But I'm planting seeds that this potentially could happen in the future."
Matt Stroud, an accomplished journalist and book author, is a former staff writer with Bloomberg and the Associated Press who has written for Esquire, Harper's, BuzzFeed, The Atlantic, and The New York Times.
Emmai Alaquiva, an Emmy Award-winning film director, photographer, and composer, skillfully showcases soulful accounts of humanity across multidisciplinary art platforms. Once homeless, Alaquiva shifted the trajectory of his life's path to become one of the most distinct trailblazers in the arena of creative arts. Today, he is a Fox Rothchild's "Top CEO" of Ya Momz House, Inc, a digital multimedia agency, co-founder of Hip-Hop On L.O.C.K. an arts education program for youth K-12 and curator of the interactive photography exhibit,
OpticVoices. Alaquiva's enraptured work can be seen internationally on the PBS, BBC, NBC and CBS networks. This 8-Time Telly Award-winner now serves on the Pennsylvania Council on the Arts under Governor, Tom Wolf, honored as Black Enterprise Magazine's "BE Modern Man of Distinction" and is a national BMe Community Leader recognized by President Barack Obama. The Sky is NOT the limit.
More Stories from Postindustrial