January 23, 2019
A 'gun guy' bids farewell to his bump stock
Here's to gun control that everyone should support.
~
BY NICK GRIMES
PHOTOS BY JUSTIN MERRIMAN // AMERICAN REPORTAGE FOR POSTINDUSTRIAL
I'm from Alabama and started shooting with my grandfather when I was barely 6 years old. We fired rifles, shotguns, and handguns. We shot clay pigeons and 300-yard targets. By the time I was 18, I had fired tens of thousands of rounds. Then I joined the Army and kept on shooting during my seven years of service.
Since getting out, I've continued to shoot for fun and own numerous long rifles, handguns, and even AR-15s. So, when I say I'm a gun guy, I mean it.
I am also in favor of stricter common sense gun laws and am more than willing to turn in or destroy the bump stock that I currently own. For those of you unfamiliar with the function of a bump stock, it is basically a workaround to the strict rules put in place by the National Firearms Act of 1934, which made it difficult and expensive (but still entirely possible) to purchase a fully automatic machine gun.
~
Bump stocks work by using the recoil of the rifle to fire shots rapidly and simulating the rate of fire of fully automatic weapons.
In October 2017, we all saw the devastation that these devices can cause, as the Las Vegas shooter had no fewer than 12 weapons in his hotel room with bump stocks. With these weapons, the gunman was able to kill 58 and wound more than 400 in only 10 minutes. I don't know of any battle in Iraq or Afghanistan in which 12 or fewer infantrymen were able to inflict the same number of casualties on the enemy using only small arms rifles in 10 minutes. The carnage of the Las Vegas shooting was so great that even the NRA called for the ATF to "immediately review whether these devices comply with federal law."
When the Trump administration finally outlawed bump stocks recently through the ATF's clarification of the definition of machine gun to any device that allows a firearm to shoot more than one round without additional manipulation of the trigger by the shooter, I was happy to applaud the administration, which is something I am rarely able to do.
I think most sensible gun owners feel the same way that I do. I've spoken to several of my veteran buddies over the last few days, and most of us are in agreement. Former Army MP Justin Thomas, who deployed in the initial invasion of Iraq, told me, "Nobody should be able to produce that high rate of fire outside of the military." Matt Landis, a former Apache pilot and Iraq veteran, and Souroth Chatterji, who deployed to Iraq twice as a combat medic and later spent seven years on the Pittsburgh police force, agree as well. Even national Republican elected officials agree that bump stocks should be outlawed. Pennsylvania Representative Keith Rothfus, who no one has ever accused of being a liberal and who holds an A rating from the NRA, supported the ban.
It's only those on the extreme fringes using the tired "slippery slope" argument that by banning bump stocks, the only natural progression is for the Second Amendment to be repealed and for all firearms to eventually be banned. This argument is, for lack of a more suitable word, stupid.
While the Second Amendment grants citizens the right to own weapons to protect themselves, it doesn't allow citizens to own any weapon they want, simply because they want to. I don't hear anyone yelling that their rights are being infringed upon because they can't buy surface-to-air missiles or nuclear weapons. Even the most extreme gun rights advocates know that there are lines that must be drawn. However, they foolishly argue that their rights are now being infringed upon by the outlawing of a device that was invented with the sole purpose of circumventing existing machine gun laws that any reasonable person agrees with.
For those who simply cannot tolerate the new law, who really want to fire automatic weapons, I have a suggestion: Join the Army. I hear they need people.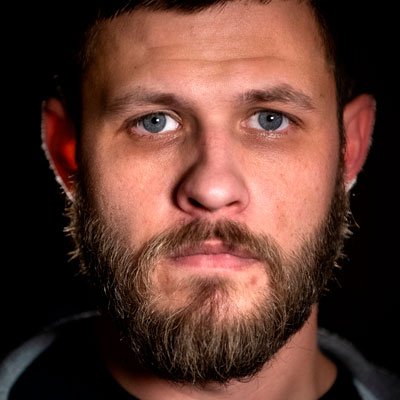 Nick Grimes is a combat veteran of the war in Afghanistan and director of programs and operations for the Veterans Breakfast Club. He is also the host of the upcoming podcast series "Truth About War."
Justin Merriman is a freelance photojournalist based in Pittsburgh, Pennsylvania, has traveled the world to cover politics, wars, natural disasters, civil unrest as well as covering assignment throughout the United States. His work has appeared in leading national publications and he has received multiple top journalism awards. Justin is a founding member of American Reportage.
More Stories from Postindustrial