Postindustrial is an independent, journalism-first multimedia outlet that's redefining the region on our own terms, not those handed down to us by previous generations and the national media.
Our work reflects the history, legacy, and culture of one of the most important regions in America. We show where those regions are going — in the spirit of reinvention and renewal so emblematic of Postindustrial America. 
---
The stories we tell
Our mission is to shed light on the changing face of Postindustrial America, how we got where we are, and where we are going. We promote conversations about the challenges and opportunities inherent to the sustainable future of Postindustrial communities. We also highlight innovative ideas and the people behind them. 
Through these conversations, we look to give voice to people who have lost their own.
We tell these stories through words, images, audio, video, and events.
Our motto: Better community, better self.
We are people, culture, and ideas forging a new Postindustrial America.
Where we tell them
Postindustrial magazine – In print and as an e-edition, our magazine features in-depth stories with beautiful visuals, providing something tangible in our digital world. Published quarterly. Subscribe here.
Newsletters – Featuring a roundup of stories and headlines from Postindustrial America, delivered to your inbox Monday through Friday and on Sundays.
Podcasts — Listen to the Postindustrial Podcast featuring newsmakers throughout the region, with host Carmen Gentile. Postindustrial Audio also
produces podcasts for organizations seeking to bring stories to a listening audience, and features other podcasts throughout the region. Listen to our
podcasts.
Events — Promoting conversations about moving Postindustrial communities forward. Coming in 2020.
Video —We bring people, places, and conversations to life with short documentaries.
Custom Content — We collaborate with brands and nonprofits to provide best-in-class content that tells your story in words, audio, video, and images to drive results.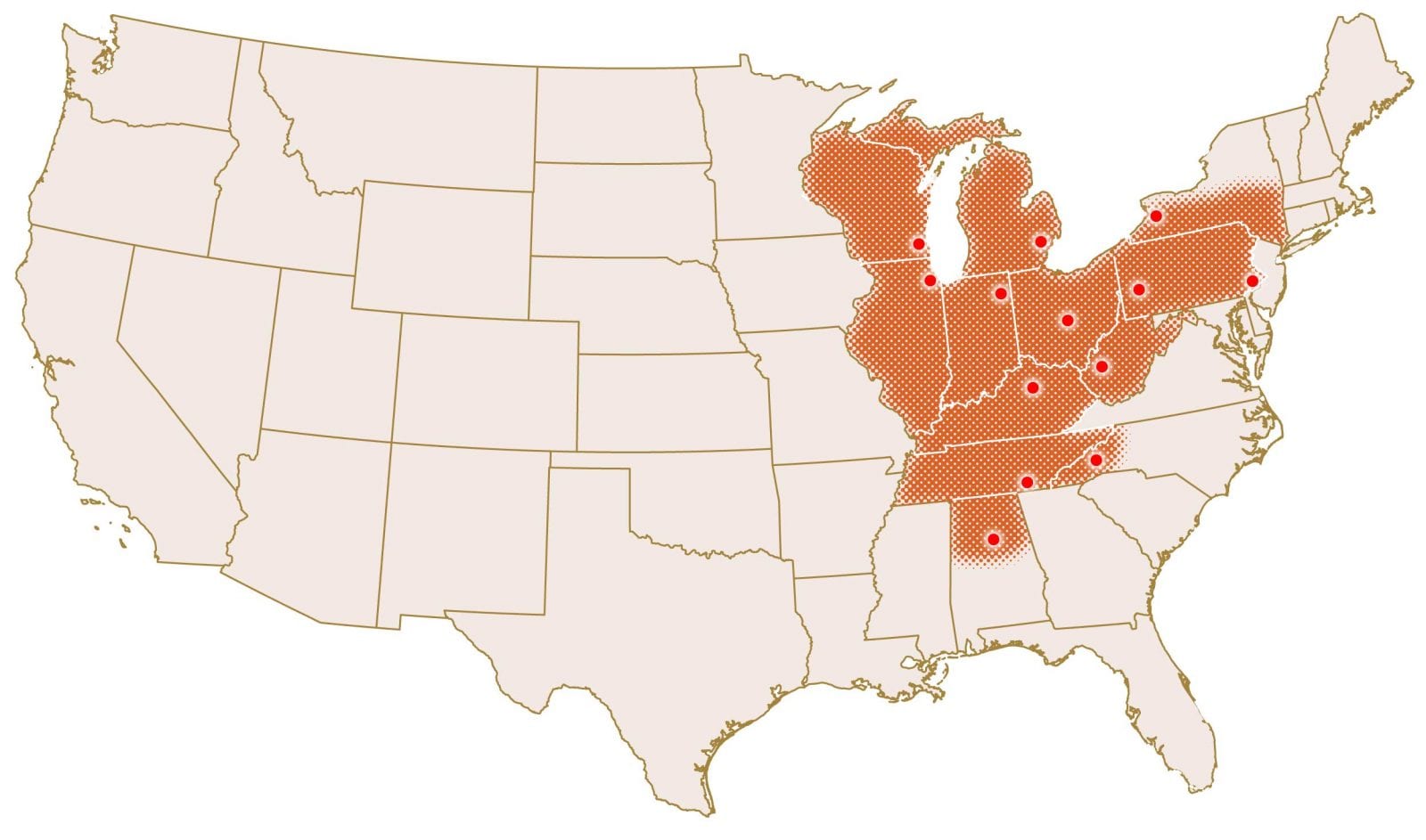 Postindustrial America Veterans Map
About
Carmen Gentile has worked for The New York Times and CBS News, among others. His book, "Blindsided by the Taliban," documents his life as a war reporter and the aftermath of his brush with death after being shot with a rocket-propelled grenade while embedded with U.S. Army forces in Afghanistan.
Founder and Editor-at-Large

About
Kim has more than 20 years of experience as an editor, project manager, and small business owner. The founder of KM Consulting, she has consulted for a variety of national and regional media clients. She previously served as a managing editor for Trib Total Media. She is the immediate past president of the Press Club of Western Pennsylvania. She hails from Meadville, near Erie, Pa.
Chief Executive Officer
Editor-in-Chief
About
Dan currently serves as the director of advancement at The Andy Warhol Museum in Pittsburgh. He is also a cofounder and board member of the nonprofit Partnership to Advance Responsible Technology.
Dan Law
Cofounder
About
Tony brings more than two decades of experience to his role as a media executive, seasoned in both digital and print markets. He's worked at the Pittsburgh Business Times, WQED, KDKA, and the Pittsburgh Post-Gazette. He is based in Pittsburgh.
Tony McGrath
Sales Director
About
Meghan has worked in social media, broadcasting, public relations, marketing, with several organizations such as Carnegie Mellon University's Tepper School of Business, the University of Pittsburgh Athletics, ACC Network/ESPN, and AT&T SportsNetwork. She is pursuing her MBA from Point Park University. She is based in Pittsburgh.
Meghan Macioce
Marketing Manager
About
Nick Childers is a visual journalist and filmmaker from Pittsburgh, Pennsylvania. He's shot and produced short documentaries and news videos for NBC News, New York Times 'The Weekly', VICE News Tonight on HBO, Washington Post, and a host of local and regional media outlets.
Nick Childers
Video producer
Martha Rial
Advisory Board
Tony Norman
Advisory Board
About
David is an award-winning journalist who currently is an executive producer at Lincoln Square Productions/ABC News 20/20 on ID Presents: Homicide. David has reported breaking news, social issues, celebrities, health care stories, and politics. He built his distinguished career primarily at Disney/ABC News. David has extensively produced for Barbara Walters, Diane Sawyer, John Quinones and a host of other correspondents. He is based in New York.
David Perozzi
Advisory Board