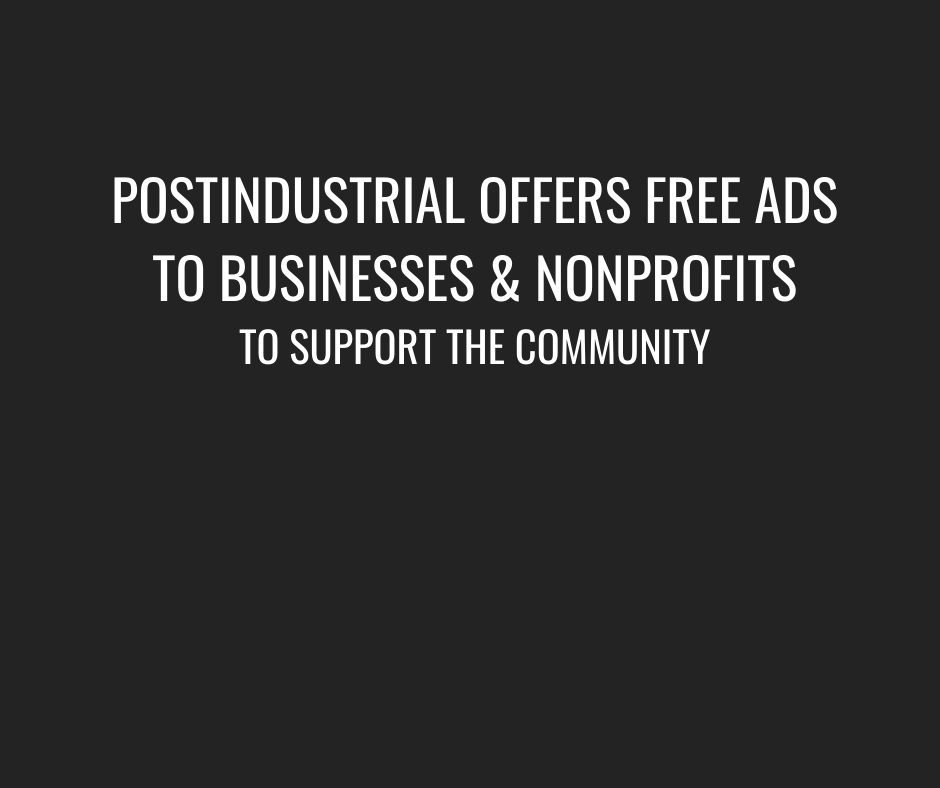 March 17, 2020
Postindustrial Media offering free ads 
~
By Carmen Gentile, Cofounder & Editor
In response to the fast-paced, ever-changing developments associated with the coronavirus, Postindustrial is shifting its focus to exclusive coverage of this story for the Rust Belt and Appalachia, the region that we call "Postindustrial America."
Our daily newsletter will contain a roundup of news outlets' coverage of coronavirus as well as our own reporting.
But to serve you best, we need your help. 
Many publications will have a hard time covering this story due to the need for social distancing and other restrictions on our movement. 
This crisis also comes at a time when the staff at many media outlets has been slashed to the bone for financial reasons. That's where you come in.
We want to hear directly from you. 
Tell us what's happening in your corner of Postindustrial America. We need you to be our eyes and ears. Tell us your stories, about how you are coping and what's happening in your home, on your street, and in your neighborhood. 
We'll follow up on your leads and tell stories that can help others cope with this situation. 
We also want to hear about unique ways people are passing the time. If there are lighter stories to be told, we want to hear those stories, too. 
You can do that by emailing me at carmen@postindustrial.com and Editor-in-Chief Kim Palmiero at kim@postindustrial.com
For businesses and nonprofit organizations in Postindustrial America: We will offer advertising space at no charge through our daily newsletter.
We know that most businesses are closed, but we encourage you to promote a message to the community through our e-newsletters that reach thousands of people. 
As small business owners, we know these are trying and unprecedented times. We want to support you — as you have supported us. 
We are experiencing a crisis that most Americans never dreamed imaginable on our shores. I have been a reporter for more than 20 years, much of it in other countries while covering wars and large-scale disasters, both man-made and natural. 
We must all exhibit strength in the face of adversity, courage to remain calm and do the right things — follow the CDC guidelines, wash your hands, social distancing, etc. 
Perhaps most importantly, we must exhibit compassion for our neighbors. 
We must stick together, even if that means staying at least six feet apart. 
Thank you for your help. We couldn't do this without you.
More Stories from Postindustrial