Laundry isn't a life-changing experience. But when Gabriel Mandujano founded Philadelphia-based Wash Cycle Laundry in 2010, he set out to make it just that.
Commercial laundry — literal dirty work — isn't hip or high-tech. Most of the time, commercial laundry services are outsourced to cut costs; in Philadelphia, Mandujano notes, laundry from hotels, hospitals, and universities is trucked 50 miles or more to rural Maryland or northern New Jersey. The work also isn't sexy or particularly lucrative. It can be monotonous, and most employees are paid less than $10 an hour, according to PayScale, which tracks compensation among 7,000 companies.
But Mandujano opted to do things differently. For one, the company pays better than average at $11.75 an hour to start. Plus, Wash Cycle doesn't outsource laundry; all its facilities are within or near the limits of the cities they serve. As a result, they rarely use trucks, instead delivering linens in custom-designed tricycles with attached trailers, called Truck Trikes. Mandujano's newest electric-assisted trikes can hold more than 3,000 pounds, adding to the millions of pounds of laundry delivered by trike to date. And the company aims to be green in the streets and in the sheets, using natural detergents and high-efficiency laundry machines.
Wash Cycle's approach is in line with a broader trend that rethinks how businesses turn a profit. The old ethos of giving the market what it wants while maximizing profit and minimizing cost has evolved to include social and environmental responsibility. And it has a name: triple bottom line.
Companies strive to focus not just on what they do, but how they do it, and the message is showing up everywhere, from Super Bowl commercials to dedicated classes at Ivy League schools to small businesses in Postindustrial American cities. Consumers are demanding more out of the companies they buy from, and businesses large and small are implementing socially conscious and environmentally friendly policies in response.
And Mandujano is quick to note that those policies have not been a detriment to his business. They've contributed to its success.
"It's cheaper to be greener in laundry," he says. "There are technologies and practices available where you can be significantly greener than your competitor and it can get you a cost advantage."
~
Businesses that do this kind of stuff — it's wonderful and it's noble, but my goodness, it doesn't clear the road ahead.
By using the latest washing technology, recycling water, and washing with heat recovery, commercial laundry facilities can save a significant amount in water, fuel, and electricity costs, according to the TRSA, a laundry and linen trade group. Since 1997, TRSA reports, efforts by commercial laundry companies to go green have cut water usage by 33 percent and total energy consumption by 27 percent.
Wash Cycle also aims to change people's lives by hiring the historically un-hireable. Mandujano believes that considering applicants who have a felony on their record is not only good for society, but good for business.
"If you're an employer of someone making 15 to 20 dollars an hour and you are ignoring entire sections of your potential talent pool, that's to your detriment," he says. "I would say that having a felony conviction has not been a great predictor of someone's work performance."
Many managers share Mandujano's opinion. At companies that have hired workers with criminal records, 82 percent of managers and 67 percent of human resource managers found that the quality of ex-offenders' work was as high or higher than those without criminal records, according to research by the Society for Human Resource Management.
While having a criminal record doesn't seem to significantly affect job performance, the type of job can be a predictor of whether someone is successful. By offering sustainable employment with room to advance, Mandujano has seen positive outcomes. He believes that paying people good wages, offering solid benefits, and adopting an inclusive management style is a more challenging proposition, but it's more effective than paying people as little as possible while insisting they put in a hard day's work.
"We're not just committed to who we hire, but also internal promotion," Mandujano says. "We have a number of people who have started on the front line move up, and we look to our own team for talent first."
Louie Colon, 37, is one of those workers. In and out of the prison system for nearly 16 years and recently stabbed and shot, Colon credits Mandujano for helping to turn his life around.
"I was out of opportunities," says Colon, who has been working at Wash Cycle for a year.  "He gave me a shot, he gave me a second chance at life, because I was really at the end of my rope."
Many former prisoners don't get that chance. Almost half of ex-felons report no earnings in the years after being released, and of those who are able to find work, half earn less than $10,090 a year — less than a full-time, minimum-wage job, according to the Brookings Institution.
This is because many employers stigmatize workers with criminal histories. Recent changes in policy like "ban the box" laws, which removed the box on job applications asking about a criminal history, and added tax incentives, like the federal Work Opportunity Tax Credit, have helped open doors for some.  
Mandujano believes they haven't done enough. For example, companies can still find out if an applicant has a criminal history later in the hiring process.
Louie Colon works at Wash Cycle Laundry in Philadelphia.

"It's not a silver bullet," Mandujano says. "I don't think you'd find many advocates who would say we've turned the tide on the issue yet."
Wash Cycle, which has expanded to Worcester and Boston, Massachusetts, and Washington, D.C., now employs 50 workers, 95 percent of whom have a criminal background, according to Wash Cycle managers. But not all companies succeed with a social mission as an integral part of their business model.
"Any time you're going to try to do economic and social in the same venture, you got to have a really clear theory of integration about how these pieces are fitting together," says Tyler Wry, assistant professor of management at the Wharton School of Business at the University of Pennsylvania. Wry explains that there are tradeoffs in implementing the triple bottom line philosophy, and that social and economic goals can conflict with each other.
"I think it's a great model. I think it works, but it's also really tough," said Wry. "Businesses that do this kind of stuff — it's wonderful and it's noble, but my goodness, it doesn't clear the road ahead."
Hiring ex-felons does come with an extra set of challenges, such as the risk that they reoffend and go back to prison. Research by the Bureau of Justice Statistics shows high recidivism rates among former prisoners in the first year after release: 44 percent are rearrested, 22 percent reconvicted, and 10 percent returned to prison on a new sentence.
However, some former prisoners successfully reintegrate. One of the biggest factors in avoiding recidivism? Having a job that pays more than $10 an hour and meaningful employment soon after release, according to the bureau.
For a soon-to-open Philadelphia brewery, creating that connection between the people and the product was obvious.
Tess Hart and her husband Bill Popwell's aptly named Triple Bottom Brewing is set to open in late spring in Philadelphia's Spring Arts district. Hart, who started out in community development, admits she didn't know much about making beer before starting Triple Bottom Brewing. But she did know a lot about people.
"We're not beer nerds," Hart says. "We really love beer because we kept seeing over and over again as we started visiting craft breweries that beer has the power to bring people together."
The brewery, which has environmental goals like giving spent grain byproduct from brewing beer to a nearby farm for cow feed, also works with local nonprofits to give Philadelphians of all backgrounds a chance for a good job.
"If you get the right job for you, that sees the strengths that you have and encourages you to do yourself justice, and really supports you and your growth — that's a life-changing experience, and that should be accessible to everyone," Hart says.
A tight labor market has increased that access, incentivizing companies to consider workers with barriers to employment. Nate King, the hiring manager of Renewal Inc., a Pittsburgh-based company that offers "second-chance" job-placement services, has seen an increase in companies willing to hire from this pool of workers.
"Companies are really having a hard time finding employees, so what they're noticing is, no matter what the individual's background is, they're having better success hiring from a company like us than they are from hiring someone off the street," King says. "We are able to give them more background on an individual."
Pittsburgh's Joseph Tambellini Restaurant has hired through Renewal for 10 years, and the restaurant received Goodwill's Power of Work award for 2019, which recognizes companies that have made significant contributions to hiring workers with barriers to employment.
"All they really need is some encouragement and an opportunity — and boy they just take off from there a lot of time," owner Joseph Tambellini says. "You just need somebody to take you by the hand and lift you up a little bit. Everyone deserves that opportunity, I feel."
EDITOR'S NOTE: This story has been changed to reflect clarified comments from Tess Hart.
Cassie Slane is a business and technology journalist and television reporter. Her work has appeared in Bloomberg News, Fox News, NBCNews, and the New York Post.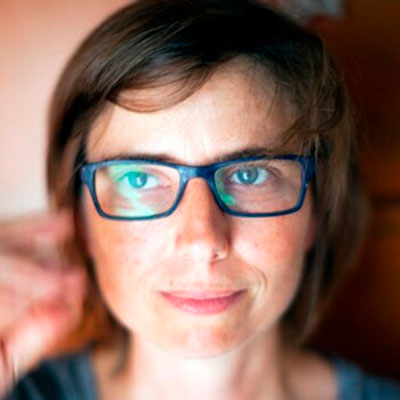 Jessica Kourkounis is a freelance multimedia journalist and photographer specializing in documentary, editorial, and portraiture work. She is best known for photojournalism, but is also building a reputation as an audio producer, filmmaker, and writer.
More Stories from Postindustrial